By Chizurum Michael Anabaraonye
The opening of the 77th UNGA on September 13, 2022, with the theme "A watershed moment: transformative solutions to interlocking challenges," marked a pivotal opportunity for world leaders, NGOs, and corporations to plot a route toward lasting peace and inclusive prosperity.
Due to unforeseen circumstances, I was unable to participate in the event in person in New York, but I paid closer attention to the proceedings online than ever before. This year's theme, "A watershed moment: transformational solutions to interlocking issues," recognizes the common causes of crises like COVID-19, climate change, and armed conflict, as well as the urgent need for strategies that will strengthen the world's capacity to withstand these threats.
The year 2022 is gradually coming to an end, and a new year 2023 will break forth before us in less than two months from now. I felt it necessary to reflect on the debates and commitments made by global leaders at the just concluded 77th UNGA in light of the hope for a brighter future for Africa in the area of climate change, energy transition, and job creation for the youths in the energy sector.
For this writing, I will be focusing on just a few discussions that took place during the meeting around climate change, job creation, and energy transition that focus on Africa. I am particularly concerned about job creation because of the changing nature of work and firm, the rapid deployment of artificial intelligence (AI) and Robotics that threaten to displace and replace humans in the workplace due to the weak or absence of policies that secure our jobs and how devastating the result will be on the African continent. The future of Africa in the face of a massive brain drain, automation, and unemployment has dominated most of my discussions. And this was the core message I shared in my work that won second place at the Global Peter Drucker Challenge for which I was invited to participate in the Global Peter Drucker Forum in Vienna, In Austria. As a matter of the gravest urgency, I am writing about it again because of the growing challenges at hand and the abundant opportunities we have to solve these problems through collective efforts and effective policy implementation.
Young people in the era of crisis
Climate change and energy transitions were topics that interested me throughout the sessions because of the enormous impacts they will have on young people and their future. COVID-19, climate change, and armed conflict each have their own distinct and disproportionate effects on young people. However, there are several other ways in which young people are suffering disproportionately, including severe economic outcomes and a higher level of unemployment. In the background of these crises are the growing demand for robots and automated systems to advance productivity and efficiency in the workplace, the changing nature of work and firms, a decrease in funding for human capital development, and other factors that, taken together, pose a serious threat to progress that has already been made towards achieving the SDGs, especially in the African continent.
It was fascinating to hear heads of state government, industry leaders and UN agency chiefs, and other partners deliver a series of speeches to enhance the collective response required to confront the global employment crisis and help the billions of young people who continue to be excluded from social protection.
I recall that the Secretary-General of the UN, in response to the catastrophic effects of the COVID-19 epidemic, had in September 2021 announced the Global Accelerator on Jobs and Social Protection for Just Transitions. The event is titled "Partnering for Action: Implementation of the Global Accelerator on Jobs and Social Protection for Just Transitions." The rise of machines and the technological revolution should be a good thing for the development and prosperity of mankind, but instead, it has become a threat to all of us. I have studied most emerging technologies, and what they might metamorphose into shortly. The truth is that these machines are smarter and faster. But the problem doesn't lie in how smart or fast they are; the problem lies in our inability, the inability of managers, businesses, and developers to define the place of man in the workplace. There are no effective policies to that effect and the government is not paying attention. I think, since the government has failed to see the need to rise to that challenge, the UN should hold them accountable and compel them to draw the line and secure the future of man in the workplace. I will devote more time to discussing this issue in subsequent publications.
We all know we're already living in a climate crisis – President Biden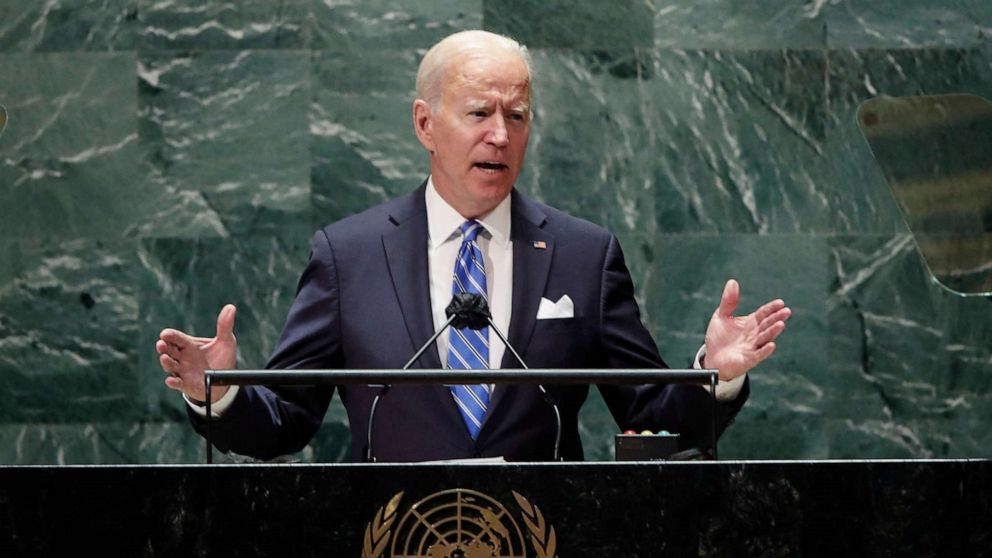 Let me start with President Joe Biden's speech, which symbolizes a glimmer of hope for the African continent and the world at large in financing climate response. President Joe Biden touted his climate policies in his address at the United Nations General Assembly as he called for nations to work together to "turn back the tide of climate devastation."
"This is a global game-changer. And none too soon. We don't have much time," he added. "We all know we're already living in a climate crisis."
Biden pointed to devastating flooding in Pakistan and drought in the Horn of Africa. "Families are facing impossible choices, choosing which child to feed and wondering whether they'll survive," the president said. "This is the human cost of climate change, and it's growing, not lessening."
The United States, Biden told leaders, "will work with every nation, including our competitors, to solve global problems like climate change."
Climate diplomacy, he added, "is not a favor to the United States or any other nation, and walking away hurts the entire world."
Biden expressed his satisfaction with the newly passed Inflation Reduction Act, which allocates a total of $369 billion to various environmental and renewable energy initiatives. "Our investments will also help reduce the cost of developing clean energy technologies worldwide, not just the United States," Biden said.
Leaders' Roundtable on Climate Action
It was a time of tremendous optimism to see the Secretary-General and the President of Egypt convene a Leaders' Roundtable on Climate Action, bringing together a small but varied and representative group of leaders of state and government to relaunch international collaboration on climate action. The discussion allowed for an open and informal conversation amongst global leaders as climate effects increase throughout the globe and carbon emissions continues to rise to a record high, affecting vulnerable populations the most.
In light of the escalating situation, the roundtable assessed the steps taken by countries to implement and reinforce pledges made at and before COP26 in Glasgow. It was also a golden opportunity to develop a shared understanding of how global leaders can boost international collaboration and reinvigorate the multilateral system to produce measurable progress at COP27, therefore bridging any gaps. In addition, it emphasized the substantial gaps in climate change mitigation, adaptation, resilience, climate financing, and loss and damage.
It's time for Africa
At the 77th United Nations General Assembly (UNGA) sessions in New York, the African Development Bank had several fruitful discussions about its strategic goals, which is the central theme of this paper. Highlights from the discussions included an urgent need for greater funding to address the consequences of climate change and food insecurity. Climate change was a frequent topic in several of the bank's discussions, particularly the need for immediate assistance for the nations most at risk from climate change.
Adesina, speaking during the 2nd ministerial conference on climate and development, joined US Special Presidential Envoy for Climate, John Kerry, and other attendees in asking developed nations to fulfill the commitments they made at COP26 in Glasgow and under the Paris Agreement of 2015. He warned: "Africa is suffering, Africa is choking, and is in serious financial distress for what it did not cause. There must be a greater sense of urgency, not in talking, but in doing and delivering resources that the continent needs very desperately."
The African Development Bank Group has joined the Global Leadership Council in a new project to increase the availability of clean, reliable energy while combating global warming. In the first instance, the Council will concentrate on measures to remove impediments to just energy transitions in developing countries.
This is critical because whereas emerging nations today account for just 25% of global CO2 emissions, this figure might rise to 75% by 2050. Also, despite accounting for over half of the world's population, developing nations now get just a fraction of the funding needed to create renewable energy.
If this current issue is left the way it is, more crisis looms upon the African continent that will disrupt emerging economies and cripple economic growth and job creation which the continent critically needs for its young people. Worse still, we risk emissions going above 75% by 2050. Therefore, in support of the African Development Bank Group's Jobs for Youth in Africa program, which aims to create 25 million jobs in Africa by 2025, and other related initiatives, the Bank's president attended a high-level session to discuss the Global Accelerator on Jobs and Social Protection for Just Transitions initiative.
According to the AFDB, to reach over 50 million Africans and generate 25 million jobs, the Jobs for Youth in Africa Strategy 2016–2025 aims to promote equitable development throughout the continent and provide youth with the tools they need to attain their full economic potential.
There is an urgent cry for job creation in Africa. Of Africa's nearly 420 million youth aged 15-35, one-third are unemployed and discouraged, another third is vulnerably employed, and only one in six is in wage employment. The unemployment rate for young people is usually double that of adults, however, this varies widely from nation to nation. In low-income nations, somewhat more than half of the young workforce is unemployed or underemployed.
Although 10–12 million young people join the labor market annually, only 3.1 million new jobs are generated, leaving many young people without employment. Unemployment among African youth has far-reaching and serious repercussions, including worsened living standards, increased migration out from Africa, and a greater risk of internal strife. Above all else, the continent's enormous and expanding population of brilliant young people is one of its greatest assets for development that is being wasted due to high youth unemployment. Because of this, it is critical to provide young people with chances that may have a profound effect on society. To convert Africa's demographic dividend into an economic one, the continent's many causes of young unemployment must be addressed.
Creating sufficient jobs for African youths will not be possible without the creation of new opportunities in the renewable energy sector.
We are late, we must act now
Africa is the region most impacted by climate change, although it contributes little to greenhouse gas emissions. And from current trends, things are going to get a bit scarier if nothing is done urgently. According to the monitoring report for Sustainable Development Goal 7, Africa is unlikely to reach the SDG 7 objectives due to many factors of which funding is the most pronounced.
To achieve its energy and climate goals, Africa needs $190 billion of investment a year between 2026 and 2030, with two-thirds of this going to clean energy, the International Energy Agency (IEA) said. And to expedite the process of replacing carbon-intensive energy infrastructure with low-carbon energy sources, there has to be a significant mobilization of political and economic resources.
Now let's get to the point. The solution to speeding global climate action lies in Africa. There is no "old economy" on the continent that requires decarbonization. Africa is endowed with a youthful and expanding labor population, vast quantities of land and other natural resources, as well as enormous amounts of unrealized potential for renewable energy. These resources might be essential in advancing mitigation efforts and opening up new economic prospects for the region if used effectively.
By using these resources, the Climate Action Platform for Africa (CAP-A) sees three different avenues that Africa may take to tackle climate change:
By using the newest sustainable technology and commercial models for consumption and production, Africa may transition quickly to environmentally friendly routes without relying on its aging energy and agricultural infrastructure.
We must make investments in a Just Energy Transition for Africa, which addresses the pressing need to expand access to modern energy for everyone who does not presently have it as well as the transition from polluting to clean sources.
We can extend this beyond just power generation to include other major emitting sectors like transportation and construction, where Africa's share of global activity is growing rapidly and where sustainable new technologies could quickly scale up in the absence of older and dirtier technologies.
Energy transition unlocks opportunities
A brand-new global energy economy is starting to take shape, and those that make the switch stand to enjoy tremendous economic, industrial, technical, and employment benefits.
Massive job creation should be the most important thing now in our agenda to advance energy transition because the biggest problem facing Africa's youth is unemployment. The youth constitutes the highest population in Africa, and they are the most vulnerable, less privileged, and unattended to by society. The youth are the future workforce of the region, with about 11 million young people expected to enter the labor market each year for the next decade.
Renewable energy has the potential to provide substantial social and economic benefits throughout Africa in addition to its environmental and climate-related advantages, particularly when contrasted with the long-term costs of imported oil and natural gas. According to IRENA's models, transitioning Africa's energy system from fossil fuels to one based on renewable energy could increase GDP by 6.4%, create 3.5% more employment throughout the economy, and boost the welfare index by 25.4% during the projection period of 2020-2050.
IRENA and the AfDB have recognized increased financial stability and the development of new jobs as two of the most significant prospects linked with the energy transition in African nations. Many African energy importers also stand to benefit greatly from the stability that renewable energy can provide to their energy costs in the face of the volatility that fossil fuel prices are prone to exhibit.
Investing in energy transition technology may generate up to three times as many employees as fossil fuels per million dollars invested, another area where renewables can play an important role. IRENA's model also shows that transitioning to renewable energy would generate more employment than it eliminates, especially in many nations that now produce fossil fuels.
The renewable energy sector is guaranteed to bring positive economic outcomes. Even amid the chaos caused by COVID-19, the growth of alternative energy sources like wind and solar have persisted, and sales of electric vehicles have surpassed previous records. The potential advantages are immense as the globe begins to inch closer to the road toward net-zero emissions.
Despite the lingering impacts of COVID-19 and the escalating energy crisis, there were 12.7 million people employed globally in renewable energy last year, an increase of 700,000 new jobs in a single year, according to recent research.
Setting the world on track for net-zero emissions by 2050 would present a combined $27 trillion market opportunity for producers of wind turbines, solar panels, lithium-ion batteries, electrolyzers, and fuel cells, according to the International Energy Agency's (IEA) recent World Energy Outlook 2021.
Image: Over 13 million jobs are expected to be gained Image: Visual Capitalist
In addition to the extra 0.3 million employment lost in electricity generation, 2.7 million jobs are anticipated to be lost in the fossil fuel industry. For equipment suppliers, service providers, and developers as well as for engineering, procurement, and construction firms along the whole clean energy supply chain, the change will provide previously unheard-of market potential.
Hydropower, solar, wind, geothermal, and bioenergy are just a few of the many renewable energy sources that are plentiful on the continent and have the potential to change Africa's energy sector into one that is both grid-connected and off-grid and create millions of jobs in the long-term.
Jobs in the renewable energy industry are expected to rise significantly, more than offsetting a loss in the conventional fossil fuel supply industries. Clean energy transitions will enhance employment in fields like retrofits and other energy efficiency improvements in buildings, as well as the production of efficient appliances and electric and fuel cell cars. They will also create jobs in the renewables and energy network sectors. By 2030, there will be an extra 26 million people working in renewable energy and allied industries, according to the IEA's roadmap to net zero by 2050.
The route to achieving Africa's target for the energy transition
Renewable sources of power are essential to the development of Africa, which is expected to have a population of 2 billion by the year 2050. The socioeconomic growth of the continent will be severely hindered if their energy requirements are not met by sustainable sources of power. For a smooth transition to renewable energy that benefits everyone, inclusive planning and developing consensus will be absolutely necessary.
Enhancing energy access today will boost socio-economic activity in Africa, lessen the effects of climate change, and contribute to long-term sustainable energy security for everybody. The present and future energy demands of Africa have received a lot of attention. The continent is also very susceptible to the effects of climate change. While the realities on the continent force Africa to cope with climatic shocks while fulfilling its development mission and promoting economic progress, these tumultuous impacts cannot go uncontrolled.
But how do we get there?
A sustainable strategy for meeting Africa's future energy demands depends on firm pledges and efficient finance execution. By accelerating the development of cleaner energy alternatives and enhancing energy availability, the continent will experience fewer climate shocks.
Due to the continent's diversity, energy demands across sectors vary significantly and are often complex. Despite the diversity of these demands, most emerging countries in Africa have similar problems. For instance, most nations in Africa are still far from achieving universal access to electricity, and socioeconomic developments are still insufficient to pull the majority of Africans out of poverty.
Additionally, due to structural problems, a high-risk profile, and political unpredictability on the continent, Africa has fewer financial opportunities to finance and boost its energy sector. The continuing COVID-19 epidemic has increased the level of uncertainty around Africa's risk profile, which has negatively impacted the continent's capacity to compete in the world arena in energy production.
The decisions taken today to pave the way for sustainable and greener energy solutions will determine how well Africa's future energy requirements are met. Electricity has typically been provided to customers by power utility corporations. This implies that attempts to achieve a successful carbon-neutral future will be reliant on the management of the switch from fossil fuels to an energy mix that is dominated by renewable energy firms.
Even though there are fewer financial prospects in Africa, development and commercial financiers have determined that there is enough financing to support the continent's future energy needs. But the difficulties encountered are as follows:
Insufficient coordination to enhance project viability and expedite financing transactions.
Planning that is ineffective owing to a lack of coordinated participation from several stakeholders, including governments, bankers, enterprises, and civil society groups
The chance of payback is quite significant. To make sure stakeholders get a good return on investment, the revenue models need to be reconsidered.
Financial instruments' maturities might be onerous for African markets at times.
Lack of consistent procurement programs to promote the sourcing of renewable energy projects to encourage local supply from non-traditional providers.
Slow implementation of developed nation partnership agreements at the Paris Agreement.
It is necessary to provide a framework that allows the integration of financial solutions if Africa is to achieve its targets in tackling climate change through advancing energy transition and reaping its benefits. Development finance organizations and commercial financiers play an essential role in the upkeep of the ecological balance of the energy supply. They do this by giving essential financial help to key players in the continent. There is still the potential for the existing financing projects to be expedited and expanded with additional measures.
A systematic approach to a well-integrated finance structure is one way to position African countries for success as they accelerate their clean-energy projects and solutions. Furthermore, effective and multifaceted coordination, solutions designed for the local energy supply environment, and cutting-edge digital technology that can meet the energy needs of Africans and those residing on the continent are imperative. These efforts will foster innovation while ensuring that any monetary and financial resources used are optimized in response to the specific requirements of the area.
The threat posed by reliance on fossil fuel exports
Countries in Africa that are often thought to be the most resistant to the transition away from fossil fuels might actually benefit greatly from it. Still, many African nations rely heavily on revenue from commodity exports like fossil fuels.
Since we move toward a low-carbon future, nations heavily reliant on fossil fuels will face greater risks associated with stranded assets, as their emerging industrial capacities will be stuck between competing energy policies.
Many hydrocarbon-exporting nations may face serious socioeconomic issues in the future if they fail to diversify their economies now since fossil fuels continue to be among Africa's top exports.
Additionally, the renewable energy sector offers substantial structural advantages to the economies of Africa. Many African economies still rely heavily on commodity exports, from agricultural goods and textiles to minerals and fossil fuels, therefore energy transition-related technologies, such as renewable energy, have a lot to offer in theory.
Jobs in a variety of fields, from installation and maintenance to auditing and policy creation, might be created by establishing local supply chains for renewable energy and energy efficiency technology.
The Bottomline
Future financial solutions for Africa's energy requirements must continue to concentrate on cleaner energy options that are compatible with the various demands and industries of the continent. These solutions must not only address the problems caused by climate change but they must also be executed in a way that advances the socioeconomic goals and development mandate of the continent.
As we continue to seek ways to advance the energy transition and create jobs for the young people on the continent, there are critical points we have to have at the back of our minds as highlighted by experts:
Africa needs to be realistic in choosing the energy transition pathways which address her unique requirements/circumstances;
Enhancing policy, legislation, and implementation approaches across the national, regional, and continental levels, to enable a favorable environment for development;
Leapfrog into the green development space without ignoring Africa's infrastructure development and industrialization ambitions;
Develop bankable projects to scale up access to funding and investment;
Adopt a mix of energy solutions to address the needs of each country including solutions to high tariffs and accessibility to sustainable energy options;
Promote energy efficiency which is necessary for energy transition;
Focus on building energy infrastructure and strengthening transmission corridors.
The continent is full of promise, and Africa's young people are its most valuable asset. It is a region of entrepreneurs and engineers, students and scholars, farmers, and future leaders eager to help transform Africa. It's time to invest in energy transition and create opportunities. Failure to do so in the face of rising unemployment and crisis created by climate change might lead to greater problems in the future. The oceans are rising, and so are we!